GazeReader
--- Jan & Sam, Department of Computer Science, UBC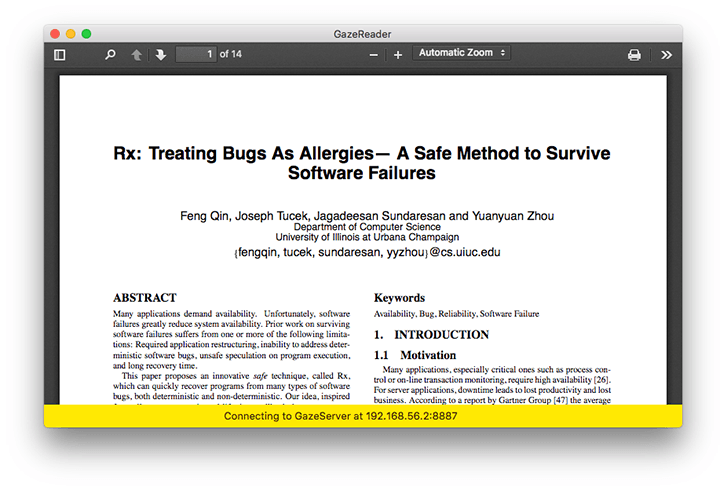 Project report could be found here.
Download
Below are the download links for GazeReader vloading... (released on loading...). This version of GazeReader requires GazeServer (>= 1.1.0). For Windows, GazeReader contains GazeServer itself.
---
How to setup GazeReader on Mac
Pre-requisites
VirtualBox (v5.2.0 or higher)
VirtualBox extension pack
Windows 7+ Virtual Machine Image
Setup the host-only interface
Check existing host-only interfaces by
Create one by
VBoxManage hostonlyif create
In the VM setting, (click the VM, then click setting), add an adaptor attached to "Host-only Adaptor" and pick the right interface.
Launch the VM, check the IP address by ipconfig in CMD, the IP address should start with 192.168. You can also ping the IP from the macOS to see if the connection is normal.
Turn off the firewall
Download the server application from https://gaze-reader.nestederror.com, modify the IP in file quick launch in VM.bat. Open this file to launch the GazeServer.
Setup the GazeReader
Edit the file ~/Library/Application Support/gazereader/settings.json and change gazeServerHost to that IP address.
Other tips
The VM needs to run in full-screen mode
The reader and VM need to run in the main screen if you have external monitor connected